We Can Help with a Bathroom Design Plan
Want to renovate your house but not sure which room to start with? When you think about the fact that guests are more likely to visit the bathroom than your bedroom, it makes sense to upgrade your bathroom first. At Total Kitchens & Bathrooms, our renovation designers in Perth can provide renovation ideas and help you with a bathroom design plan.
A bathroom with quality finishes can have a remarkable first impression on guests, which highlights the need for carefully planning your bathroom renovation. If you're not quite ready to carry out a DIY bathroom remodel, you can benefit from assistance from a competent contractor such as Total Kitchens & Bathrooms. We'll advise you accordingly and help you plans come to life.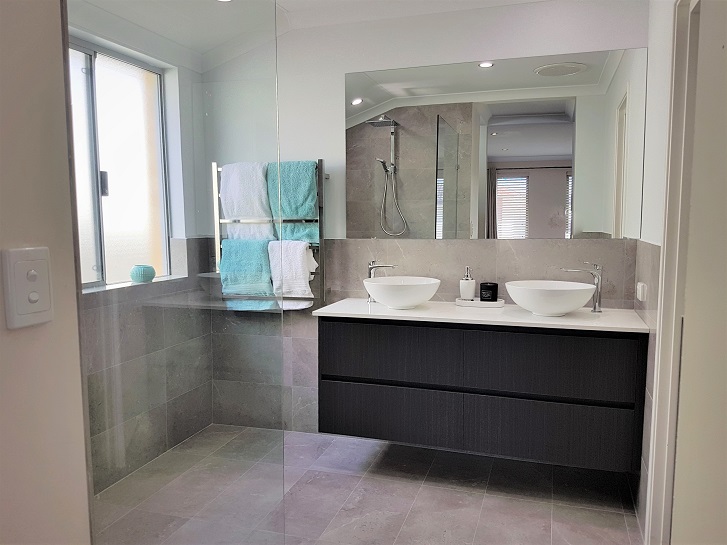 The Benefits of a Custom Bathroom Remodel
Implementing modern or classic bathroom renovation ideas can be rewarding for a homeowner. If you're still considering whether to kick off your bathroom remodel, consider these benefits:
The upgrades you make to your bathroom will deliver significant long-term returns. If and when you sell your property, potential buyers will assess the condition of the bathroom to help with their decision. Modern finishes are attractive, giving you the best chance of obtaining the price you want.
Homeowners often struggle with a lack of space in their bathroom. A renovation can move fixtures to a more optimal spot or even eliminate unused ones, giving you much more space.
Installing new features in your bathroom as part of a renovation can make the space much more efficient. Modern shower units and toilets use less water and energy which can reduce your water expenses while also having a positive impact on the environment.
Tips Regarding Modern Bathroom Ideas
Every homeowner wants a bathroom that reflects their style while delivering comfort. To achieve this goal, it's important to consider several factors that play a role in realising your vision. Whether you want small bathroom plans or large bathroom plans, the following tips can help make your renovation a success:
If space is tight, try to install recessed features such as a soap dish, toiletry cabinet and toilet roll holders. Flatten the ceiling lighting to create the illusion of space.
Since moisture and bathrooms go hand-in-hand, factor in proper ventilation. Consider a window or exhaust fan to eliminate moisture from the room, and with it, the potential for mould and other bacteria to grow.
Bathroom lighting is essential in the room where you get ready before heading out. You can't rely on a single ceiling light to inspect your hair and face thoroughly, so think about adding lights next to the bathroom mirror with sconces.
Enquire with Our Renovation Experts Today
We can help bring your bathroom design plan and remodel ideas to life. For the past 20 years, Perth and Northern Suburbs homeowners have trusted us to deliver high-quality work, and we haven't disappointed. We'll take care of each step from the design phase through to completion, plus we offer a free six-month inspection after your renovation has been carried out. Contact us for a free quotation for your remodel.