Bathroom Extension Services
Your bathroom is a place of pure relaxation, where you'll spend time before bed and reflect on your day. This would be an ideal first impression for potential buyers who are evaluating whether or not they should buy this home!
You can't put a price on your bathroom. You invest so much time in the design, planning and execution of this space that it's important to find someone who will give you not just any builder but an artist with unparalleled creative talent for all aspects from floor plans to finishes – Total Kitchens & Bathrooms is here!
You'll be blown away when we show up at your doorstep equipped with everything necessary including professional design consultations if needed beforehand then hands down some first-class builders once things get rolling; custom cabinets built by experts using only high quality materials while paying attention every detail–no corners cut whatsoever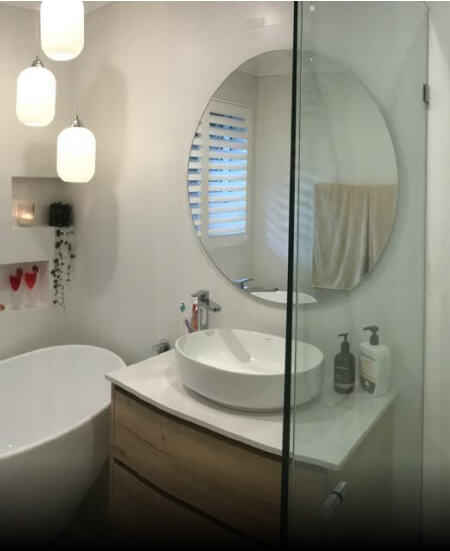 The Benefits of Bathroom Renovations
Modernizing your bathroom is not just about making it more aesthetically pleasing, but also practical. From adding elegant finishes to the walls and flooring in order for you have a stunning retreat or giving yourself access-all areas bathing experience with glass dividers positioned so there's no need get wet feet when taking an shower – renovating can provide many benefits!
Increase your property value by up to 10% on average.
Increase the desirability of your home.
You'll be able to enjoy more time at home with family without feeling like you're inconveniencing guests or friends because there's not enough bathroom space for everyone.
Increase your storage space and your bathroom will be easier to navigate.
You'll feel more relaxed in the morning when you're rushing out the door, and less stressed at night after a long day of work.
Reasons to Choose Us
We offer quality extension services for your home, including striking bathroom refurbishments. Here are some additional reasons why we're a top choice:
We have over 10 years of experience in the industry – All our skilled tradesmen are fully insured and licensed with clean records to show it!
We take pride in using locally sourced Australian materials to transform bathrooms and other areas. Every bathroom cabinet we offer is made by hand with dedication, care and precision for your perfect custom design needs.
We offer a variety of cabinet styles to suit your budget and needs. Our cabinets are designed by considering the size, shape, installation requirements for plumbing fixtures in our customers' bathrooms so you can get exactly what suits both style preferences as well as cost-appropriate features without paying overpriced prices.
Our team of professionals are experts in bathroom design. We have the knowledge to help you create a functional, efficient space that will meet your needs and preferences for years to come! From small renovations all the way up through complete overhauls – our experienced craftsmen can take care of anything from installation services down into planning out how an addition would look best on top-level detail so it fits seamlessly with current plans or just enhances what was there before at no cost whatsoever.  We're committed not only hire qualified tradespeople but also provide personalized customer service.
Our bathroom experts will give you the modern, luxury bath of your dreams.
Your dream can become reality through our dedication and expertise in delivering top-quality service with every job!
Contact Total Kitchens & Bathrooms Today
At Total Kitchens and Bathrooms, we offer a range of services to suit all your needs. Whether you're looking for an extension or renovation on the bathroom in question; let us take care of everything! We will come up with plans that are tailored specifically to what YOU want – not some cookie cutter design which is common among other companies offering these same services.
Learn more about our company today by contacting us.