Complete Bathroom Renovation Services
Just moved into a new house and excited about changing the bathroom to suit your style? Been brushing your teeth in the same bathroom for years and want a change of scenery? Fortunately, Total Kitchens & Bathrooms can help you with our bathroom renovation services. Our team can provide professional and reliable assistance with any renovation you require, whether it's limited or lavish. As with any supplier, it's always best to look at our previous work to determine if we're a good match to bring your dream bathroom to life.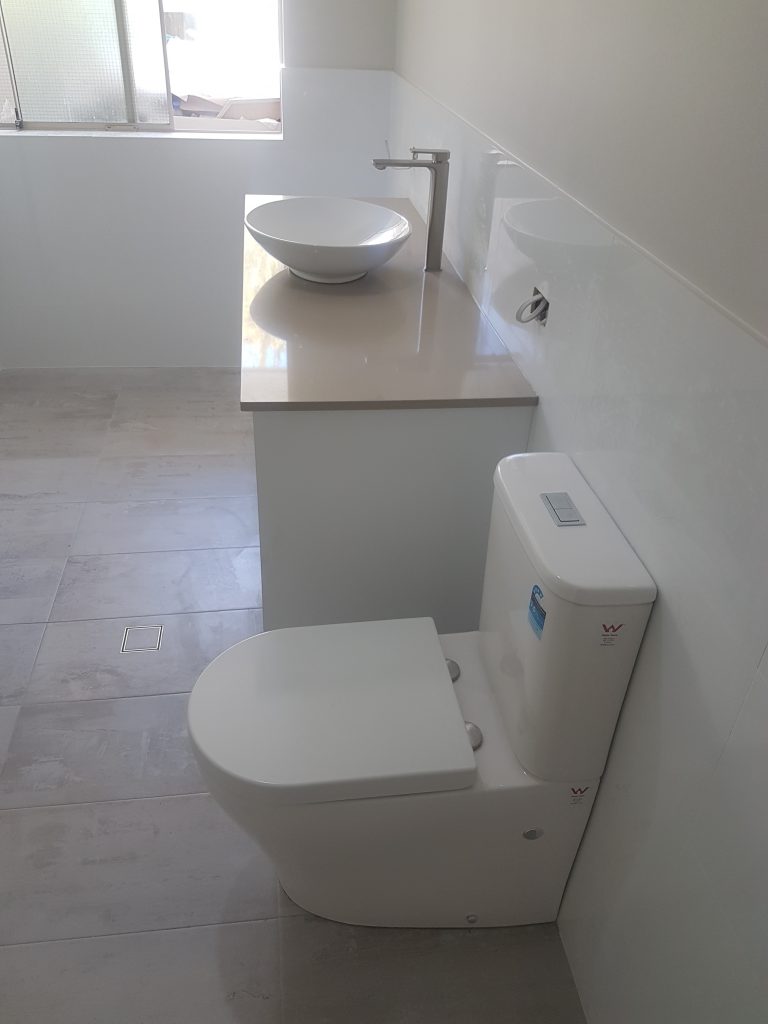 What You Can Expect From Us
We firmly believe that our success with total bathroom renovations comes from proper organisation and planning of renovation projects. We manage the entire process for you from beginning to end to remove the stress of coordinating suppliers and materials. Have a look at what the process entails for our complete bathroom renovations services:
Our designer will consult with you first. This is the most critical step, establishing lines of communication and sharing ideas to form a vision of the final result. This will ensure that you and your designer are on the same page to avoid any misunderstandings.
Create custom designs and use the best materials. When we renovate your bathroom, you can be sure you won't end up with the same bathroom as the house next door. We custom-make cabinets at our workshop. We also advise you on the best material to use according to your needs and budget as well as the best sizes to optimise limited bathroom space.
We promise to deliver quality installation with quality materials and craftsmanship. As a final reassurance, we'll do the last check with you to guarantee satisfaction.
As you get used to your renovated bathroom, you might notice little things that bother you that require alteration. For this reason, we carry out a six-month follow-up check to fix anything that might be annoying you so you're 100% satisfied with the result.
We've completed custom bathroom renovations in Perth and the northern suburbs for over 20 years, creating visually appealing and functional spaces. Whenever we see a good deal, we'll share it with you under our weekly specials so you can get the best quality at a lower price.
If you have previously made use of our luxury bathroom renovations, you'll know that we deliver quality and professionalism all the way. If you feel it's time to move on to another room, we can also renovate kitchens to a standard that would make a chef excited.
The Benefits of Bathroom Renovations
Getting classic or modern bathroom renovations is a great way to bring about numerous aesthetic and practical benefits, some of which include:
Increase the value of your home. Bathrooms are immensely important when choosing a home and can be a deal breaker for individuals who are looking for a particular aesthetic or feature. Even factors like countertops can have an impact. If you want to increase the value of your home, you should consider adding another bathroom or en-suite bathroom.
Provide you with the idyllic bathroom of your dreams. If you want a spa bath, you can add it to your dream bathroom as long as you have adequate space. You can also add a myriad of textures and colours to help create a serene atmosphere for ultimate relaxation.
Create a more spacious area. Feeling cramped every time you walk into your bathroom may leave you feeling frustrated and struggling to navigate your way without bumping into something or knocking something over. Strategic remodelling can create extra space.
Easier cleaning and maintenance. Cluttered and cramped bathrooms can be challenging to clean, especially the hard-to-reach places. Once you redesign your bathroom to be more spacious and practical, the cleaning process immediately becomes easier.
These are just some of the benefits of getting a renovator to upgrade your bathroom into a stunning and functional space. Whether you're seeking budget bathrooms in Perth or luxury bathrooms in Perth, we can accept and complete jobs of all types without exceeding your budget.
Reasons to Choose Us
We offer quality renovation services for your home, including striking bathroom refurbishments. Here are some additional reasons why we're a top choice:
We take pride in using local Australian materials to transform bathrooms and other areas. Every bathroom cabinet we offer is made at our very own workshop with dedication and care. This way, we ensure that you will have the perfect cabinets designed especially for you.
If you're on a tight budget, that's not an issue. We design our cabinets based on your budget and needs, so you can look forward to obtaining your dream look in your bathroom without spending an excess amount of money. Our offers range from budget-friendly to deluxe, and we aim to cater to all of our customers' specific requirements.
Our experience and knowledge of our craft allow us to provide tips on how to maximise the existing space in your bathroom. We provide free quotes to individuals so that our potential future clients are 100% happy with the investment. We believe that detailed planning and organisation is crucial to a seamless bathroom renovation. We strive to meet our clients' particular needs, whether they're looking to make the most of a compact space or completely overhaul their bathroom to create a more spacious area.
Whether you want a small master bathroom or luxury modern bathrooms, we can be trusted to deliver the bathroom of your dreams through our dedication and expertise.
Contact Total Kitchens & Bathrooms Today
If you're looking for a provider of total bathroom renovations, you can trust the Total Kitchens & Bathrooms team to do an outstanding job. We offer a free consultation before you commit to the process, which means you can budget accordingly and know there won't be any hidden costs.
We also offer a six-month check-up on any renovation to ensure customer satisfaction. Call us to get a free quote for your dream bathroom or book a free design consultation.